Celebrating 18 years of Weavers
Fred Hofstetter on September 3, 2017
The reign of Weavers is over, putting a close to the latest version of a weirdly understated phenomenon in modern professional sports.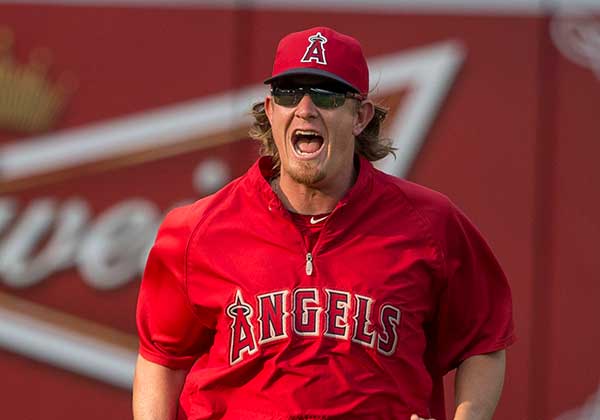 Family members sharing the stage on the highest level of professional sports baffles me. The odds for any single baseball player to reach the Major Leagues are astronomical. It's a trillion to one. Or billion. Or something ending in -illion. They all sound the same. That's why numbers in the billions or trillions fail to intimidate me. I mean, they're only a single letter away from "million." I can wrap my head around a million. Reaching the big leagues is a million, billion, or trillion to one. A lot to a little. The odds of two kids in the same household reaching the big leagues is something like twice that. Two million, two billion, or two trillion to one.
Yes. I get how genetics works.
Here's how it works: when you're born, a special set of skills is bestowed upon you from your forbears. All based off of these strands of helixing data that twist around in bright colors deep down in your blood cells. They're really small, so you can't see them.
Some people have hammers and nails winding around down there and wield an aptitude for carpentry. Others, intertwining stringed instruments or algorithmic proofs. Jered and Jeff Weaver have baseballs.
Also – when your brother has aspirations you might have them too.
By all accounts the Weavers weren't hyper competitive. Jeff is 6 years older than Jered. Jeff got to everything first and it wasn't close. But an age gap doesn't eliminate sibling rivalry. Stick a microphone to the world in front of a player's face and they won't tell you I want mom and dad to love me more than my brother. But it's there. Oh, it's there.
Witnessing your big brother get really good at something and as your parents beam in pride will motivate you. Especially when it's something cool, like sports.
My sister is two years older than me. I was 6 years old. No, 10. Four. I can't remember. She was learning to play guitar. So I wanted to learn how to play guitar. I wanted to play guitar better than her. Forever. She was obsessed with this song by a band called Staind. I'm on the outside,  I'm lookin' in. I can see through you, see your true colors. Cause inside you're ugly, ugly like me. That one. There's like 4 chords and you can play them all the same way. Bar chords. She was sort of working hard because she was bigger so things came easier for her. I was dying. Sweating and cussing with fingers bleeding finger blood all over the place trying to get it right. Finally I got it. Then I realized I hated that song. Then I realized how when you play guitar and learn how to play songs you will very soon learn to hate those songs. For the next three months I spent sleepless nights learning "Time of Your Life" by Green Day incorrectly. I had one of those portable CD players you could plug your ear-draping headphones into. For two of the three months I couldn't understand how the fingerpicking could sound so sharp. My dad introduced me to the concept of a guitar pick and the world was my oyster. By then my sister had long moved on to more interesting things like developing relationships with other human beings. And annoying my parents.
For some siblings, the eldest's long shadow is no place to be. So you might start trying to throw sliders like they do.
Their careers – concisely summarized
Both Jeff and Jered were drafted in the middle of the first round of the MLB draft. Jeff 14th overall, Jered 12th overall. Jeff Weaver had his best seasons right off the top with the Tigers then stumbled his way into his late 20's with a stabilizing stop in LA. He peaked with some brilliant performances in the 2006 postseason with the Cardinals.
Jered Weaver reached greater heights with a more traditional late 20's peak, falling just shy of a Cy Young award in his age 27-29 seasons. He never had the World Series Glory Moment like his brother, but he had a broader body of success.
WAR
W
L
ERA
G
GS
SV
IP
SO
WHIP
Jeff
15.5
104
119
4.71
355
274
2
1838
1214
1.367
Jered
34.6
150
98
3.63
331
331
0
2067.1
1621
1.191
All stats courtesy of baseball-reference.com.
They pitched against each other on June 20, 2009.


Weird.
Other brother-on-brother pitching matchups throughout baseball history:
Brother vs. Brother Pitching Matchups in MLB History
Brother vs. Brother
Date
Jered vs. Jeff Weaver
6/20/2009
Alan vs. Andy Benes
9/6/2002
Ramon vs. Pedro Martinez
8/29/1996
Mike vs. Greg Maddux (last of 2 matchups)
7/31/1988
Joe vs. Phil Niekro (last of 9 matchups)
9/13/1982
Pat vs. Tom Underwood
5/31/1979
Jim vs. Gaylord Perry
7/3/1973
Jesse vs. Virgil Barnes
9/11/1926
The older brother is 11-9.
They're one of eight sets of brothers to face each other in the big leagues. There have been nearly 100 sets of brothers who have reached the big leagues in total. John and Jordan Danks are the latest pair since the Weavers (2012).
In their head-to-head matchup, Jeff got the win. Neither of them were very good. Jeff was serviceable and Jered was bad. The real story here is that it actually happened. Two brothers from the same mother pitched against each other at the Major League level in a game that counted. Phenomenal. Not sure when that's going to happen next.
Jered just retired, hanging up the cleats 7 years after his brother did. At 34, he's not particularly old – but his body has failed him. Even when healthy he could only touch the mid-80s. Stealthy physical decay has claimed a second lanky right-hander from Northridge, CA. The Weavers seem the type to drink heavily and celebrate for a few years together then settle down and pick up a couple coaching gigs. Cheers, boys.
In lieu of a we'll dearly miss the Weavers sentiment I can't muster, I'll defer to this guy. Who really captures it: